Minister Of Higher Education Has Been Meets With Sir:Sulimanzai,Who Was Seriously Injured By The Rubbers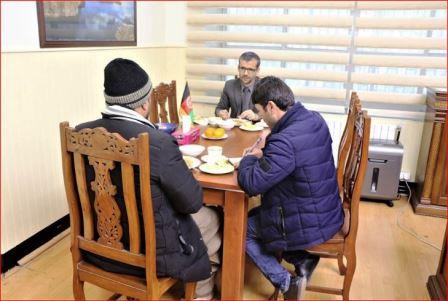 Acting Minister of Higher Education, Col. Abdul Tawab Balakzai, met with teacher Habibullah Suleimanzai, who was severely injured by armed robbers. Professor Abdul Tawb Balakzai called the attack "alarming", in addition to condemning such attacks by academics by armed robbers. University of Khost Sheikh Zayed University lecturer Habibullah Suleimanzai, a lecturer in Kabul's Maiwand Jada, was attacked by robbers last evening and suffered serious injuries to his face and head.
The lecturer of Sheikh Zayed University came to Kabul to process his documents and was scheduled to leave for China for higher education level, but was injured in the incident. And he loses his mobile and his educational documents are also looted by thieves.
In addition to sympathizing with Acting Minister and Higher Education Minister, Col. Abdul Tawab Balakzai, Ustad Suleimanzi requested him to be healed immediately, and promised that he would assist in the second payment of documents. The acting Minister of Higher Education urged the security organs to take full care of the security of the countrymen, especially the teachers and students. It is worth mentioning that a few days ago, Mohammad Rafi Banai, a lecturer at Kabul University, was also attacked by armed robbers.